We are car accident attorneys in Detroit Lakes, MN.  Our lawyers handle truck crashes, work comp., wrongful death, and other injury cases in the Detroit Lakes area. We mediate and arbitrate injury claims. Our accident law firm has been in Detroit Lakes for more than 40 years.
Our personal injury law office is located in Detroit Lakes, Becker County, Minnesota, in northern Minnesota, 45 miles east of Fargo, North Dakota, and Moorhead, Minnesota.  Check out this map.  Northwestern Minnesota is in the heart of the lakes vacation area.  Detroit Lakes has much to offer, and the Stowman Law Firm, P.A., is proud to call Detroit Lakes home.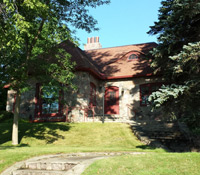 Our office is easily recognizable – it is the big stone house on the hill at 1100 West Lake Drive, one mile past the public beach.  Our office overlooks Little Detroit Lake.
Detroit Lakes offers quality medical care in the event of an injury accident.  Detroit Lakes has an 87 bed acute care hospital for inpatient services, a fully staffed Emergency Room (ER), two large regional clinics staffed with primary care doctors, walk-in and urgent care medical services, specialty medical care, MRI imaging, CT scans, a specialty face ear nose neck and throat clinic, physical therapy (PT), occupational therapy (OT), specialty orthopedic and bone doctors, behavior health, mental health, hospice, and ambulance staff with advanced life support for emergency medical calls.  Hospitals in nearby Bemidji, Park Rapids, Pelican Rapids, Mahnomen, and Wadena often rush accident victims in ambulances to the Detroit Lakes hospital for advanced care.
Detroit Lakes supports several races and events: Dick Beardsley Half Marathon and 5K Run every September, the Annual Laddies Loppet mountain bike race held in August at nearby Maplelag Resort, Zorbaz Beer Run held in August, Leather and Leaves Motorcycle Rally sponsored by Zorbaz and held in September, National Muscatell Ojibwe Forests Rally – part of the Rally America Championship (car race), the Detroit Lakes Jaycees Water Carnival each July, and the famous 4th of July fireworks over the lake.  May brings the Detroit Lakes Festival of Birds on the International Birding Trail.
The Lake Country Scenic Byway driving route follows State Highway 34 from Detroit Lakes through Osage, Park Rapids, Nevis, Akeley, and Walker to Leech Lake.
In the winter, Detroit Lakes enjoys 250 miles of groomed snowmobile and ATV trials, groomed cross country ski trials and resorts, ice fishing on the 412 area lakes, a curling club, and Polar Fest in February with the famous Polar Plunge and fireworks over the ice!
Whether you live in the Detroit Lakes area, keep a lake cabin here, or traveled here for an event, the injury lawyers at the Stowman Law Firm, P.A. can help you if you were injured in an accident.
Your initial consultation is free.  There is no charge to talk to us in person or on the phone.