The Minnesota bicycle accident attorneys at the Stowman Law Firm help after someone is hurt or killed in an accident while riding a bike.  This fatal bicycle crash near Brainerd, Minnesota, shows the questions that arise when a car hits and kills a bike rider.  This was a terrible accident.  Was someone impaired by alcohol?  Was someone driving distracted?
A bike rider was killed in a crash near Brainerd when a small southbound car hit the northbound bicyclist.  The Minnesota State Patrol reported that alcohol was detected in the driver's system.  No other details, such as the BAC (blood alcohol content), were immediately available.
In Minnesota, it is illegal to drive with a BAC of .08 or more.  However, a driver with a BAC lower than .08 might still be illegally driving under the influence of alcohol.  A driver is also illegally driving while impaired if intoxicated by drugs, either illegal drugs or prescription drugs.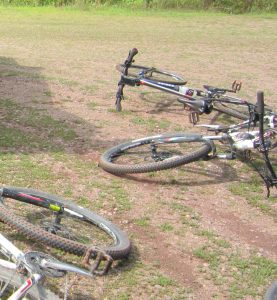 It was also not immediately apparent whether either the car or the bicycle crossed the centerline into the wrong lane, or whether either was distracted while driving.  This accident occurred in Cass County in early October, 2013.
The lawyers at the Stowman Law Firm, P.A., help victims and surviving family members after wrongful death bicycle accidents like this one near Brainerd, Minnesota.  Often, accident victims have no experience bringing insurance claims and have questions.  Sometimes the insurance company will contact you, and you do not know if you should talk to the insurance company.  If you or someone you know has questions after an injury accident or wrongful death crash, email, call, or send a message in the box on this page to the Stowman Law Firm, P.A.  If you have questions, we have answers.