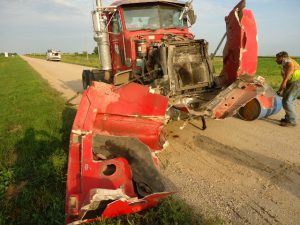 Our Minnesota and North Dakota wrongful death attorneys can help after someone is killed in an accident. David and Jeff have been selected Superlawyers for many years running. You want to hire the best wrongful death lawyer you can find. Watch our client testimonials for reviews and recommendations of our lawyers by clients our law office has helped.
Contact our law office if you have questions for a Minnesota wrongful death attorney. Our lawyers handle Minnesota and North Dakota wrongful death claims. The most common type of accident causing a wrongful death is a car accident, usually a car or truck crash or rollover accident involving a negligent driver, distracted driver, or drunk driver. But, someone might be killed in a motorcycle accident, in an ATV accident, while walking as a pedestrian, on a bicycle, or any number of ways. It is called a wrongful death claim because a person is killed due to the wrongful conduct of another person. The surviving family members – beneficiaries or heirs and next of kin – should contact a wrongful death lawyer to help with the claim.
Even if the state is prosecuting a negligent driver for causing a wrongful death, the victim's family can still contact a Minnesota wrongful death attorney to bring a wrongful death claim for money damages.
The surviving family's wrongful death claim is intended to get money to compensate for wrongful death damages – lost wages, medical bills, funeral bills, financial support for surviving husband or wife, money for surviving children, and money for the loss of counsel, guidance, aid, advice, comfort, assistance, companionship, and protection that the person would have given if he or she would have lived. This refers to the damages for the death of your friend or family member. You feel like you have lost everything.
If someone you know was killed in a Minnesota wrongful death accident or a North Dakota wrongful death accident, the wrongful death lawyers at the Stowman Law Firm, P.A. can help. Our wrongful death lawyers also handle North Dakota wrongful death claims.
Wrongful death damages for family members are based on how long the surviving family member will live, not based on the age of the person wrongfully killed.
Here is how it works: Let's say a 60 year old woman is tragically killed in a car accident. She leaves behind a surviving husband, one living parent, and one son. The husband's loss is huge. His loss needs no explanation, and there are many more factors than just age in the husband's loss.
The parent's loss and the son's loss are also huge. No one should ever lose a child or parent to a wrongful death. But, the loss of each person is multiplied by the number of years the surviving person (spouse, parent or son) have remaining to live. All other factors being equal, the son is younger, so his loss is greater; he has more years to live than the parent.
Wrongful death damages are greater for a surviving husband or wife than for a surviving parent or grandparent, because the husband or wife will live longer than the grandparent. The loss increases for each year of life remaining. Wrongful death damages are much greater for surviving children and grandchildren, especially if they are young, because they will live much longer. Younger people receive more money, because they lost that person for many more years.
Sometimes, after someone you know is killed in an accident, you need to take the initiative to call a wrongful death attorney for your friends or family. It is often too painful for the surviving family members to make the call, even though they could use the help of a wrongful death law office.
The sooner you call the Minnesota wrongful death attorneys at our office, the better. The insurance company will start asking questions right away. You should have a wrongful death lawyer working for you to protect you, your family, or your friends. If it is too painful for your friends to call, call us for them.