We are Minnesota and North Dakota personal injury lawyers.  Our law office helps people hurt in car crashes and truck accidents in MN and ND.  
Why should I hire a lawyer for help with my car accident? With you reading this page, chances are that you have had an auto accident or a car collision. You probably also have questions to ask a lawyer about filing a car insurance claim.
There are several reasons to hire an auto accident lawyer if you or someone you love was hurt or killed in an auto accident.  Car accidents, drunk driving accidents, and bicycle accidents raise questions that you cannot answer by yourself.
An auto accident lawyer will have experience handling cases similar to yours, and will:
help prove your damages,
negotiate a settlement,
deal with the insurance company,
help with paperwork,
help you get your medical bills paid,
help you with your income loss and lost wages, and
represent you in court if a fair settlement is not possible.
More than anything, a car accident attorney can answer your questions about what happens after a car accident.
Do I need a lawyer after a car accident?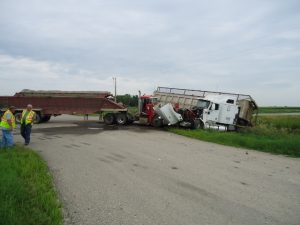 Do I need car accident legal advice? Do I need a lawyer after a motorcycle accident, boating accident, or ATV accident?  When should I contact a lawyer after a rear-end crash or truck accident?  Check out our Frequently Asked Questions or search our website, above!
The short answer is that if you are asking, you probably do. The insurance claim process after an accident is unfamiliar territory. Getting the liability insurance company to pay you a fair amount of compensation is where you will need the help of an experienced personal injury lawyer.
A personal injury lawyer will review your accident with a fresh set of eyes and will be able to speak from experience. The liability insurance company will take your claim more seriously if you have an accident attorney.
The injury attorneys at the Stowman Law Firm, P.A. can help. Your initial consultation is free.  There is no charge to talk to us in person or on the phone. Ask your questions for free in the "I have questions" box to the left.
Our law office only handles cases involving injury or death. Whether you recently had an accident in Minnesota or an accident in North Dakota or need to file your insurance claim for damages, ask us.  If you have already been in contact with the liability insurance company, the personal injury lawyers at our law office can help you and answer your questions.
Accident? We have answers.