A crash between a motor scooter and an SUV killed a Brainerd man on Hwy 371.  The scooter was trying to make a left turn when it was struck by an oncoming SUV.  The scooter driver was not wearing a helmet.  This motorcycle accident happened in Brainerd, Minnesota, near Baxter, in early September, 2013.
Minnesota motorcycle deaths in 2013 could top the 55 motorcycle deaths in 2012, the most since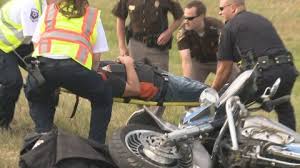 2008.  49 motorcycle riders were killed in Minnesota accidents as of early September, 2013.  According to the Minnesota Department of Public Safety, 28 of the 49 motorcycle deaths happened since July 1.
Adult motorcycle riders in Minnesota are not required to wear helmets.  However, the statistics highlight the advantage helmet wearers have when motorcycle riders are involved in a crash.  31 out of the 41 motorcycle deaths that the DPS investigated were not wearing helmets.
The motorcycle crash attorneys at the Stowman Law Firm, P.A., handle only cases involving injury or loss of life.  The Stowman Law Firm, P.A., helps surviving family members after tragic fatal accidents like this motorcycle crash in Brainerd, Minnesota.  Often, it is too painful for a family member to call an accident attorney.  You might have to call us for them.  If they have questions, we have answers.