Texting and cell phone use behind the wheel causes accidents.
Which driving distraction is the worst?  What is a distraction while driving?  How many accidents and deaths are caused by distracted driving?  How many car accidents are caused by texting and driving?
Distracted driving is more than just texting behind the wheel.  Anything you do behind the wheel that takes your attention away from the road is a driving distraction.  If you are distracted while driving, you might not be safe.  If you are not safe, you might be negligent.  If someone drives negligently and causes an accident, their insurance company has to pay for the harm and damage they cause.
Here is a list of research-based distracted driving statistics:
Five seconds is the average time your eyes are off the road while texting.  At 55 mph, that's enough time to cover a football field.
Drivers under 25 are much more likely to text while driving than all other age groups.
73% of drivers 18 – 20 years old admit to texting while driving.
Only about half of drivers under 25 would say something to another driver who was sending a text message or email while driving.
Distracted driving causes accidents.  When you cause an accident, you or your insurance company pays, for the harms you cause.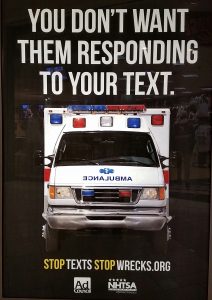 source: distraction.gov, the official government website for distracted driving.