This Minnesota bike accident lawyer had his own personal injury bike accident.  The attorney crashed into a car while riding his bike.  Who?  Me.  I did not get hurt badly in the bike crash – my only injuries were bruises, scrapes, and my damaged ego.  I obviously did not get killed in my car / bike accident.  I did not need to hire a bicycle accident attorney, because I was not really hurt, my bike was not wrecked, and the car I hit was fine.  It easily could have been much worse, but it was scary.  Believe me, my knees shook the entire day.
It was a few years ago that I hit the car while riding my bike.  I had moved temporarily to an east coast city for an internship.  I was not yet a personal injury attorney.  I had taken to commuting to work on my mountain bike in order to stay active.  I was pedaling hard trying to keep up with heavy morning traffic.  The car in front of me suddenly hit its brakes, because the car in front of that suddenly changed lanes into our far right lane.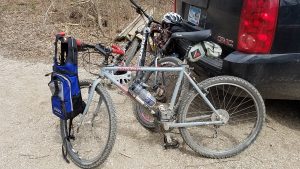 I squeezed my brakes hard, but ended up hitting the rear of the car in front of me.  I flew over the handlebars and landed on the trunk of the car.  The driver was mostly concerned about not making a scene and holding up traffic.  After a quick review, I could tell I was only bruised and scraped – and embarrassed!  The driver went on her way, and I continued riding my bike to work.
When cars or trucks hit bicycle riders, it usually ends badly for the bike rider.  I was lucky.  Broken bones, stitches, head injuries, and brain injuries are common after getting hit by a car on a bike.  Our Minnesota personal injury attorneys have written about Minnesota bike riders killed in collisions with cars.
The Minnesota bicycle crash lawyers at the Stowman Law Firm, P.A., ride bikes, so we know about bike accidents.  If you or someone you know has been hurt or killed after being hit by a car on a bike, contact us.  Our lawyers can answer questions about your bike accident.  Check our Frequently Asked Questions page.  You might also try searching our web site in the "Search Stowman Law" box, above, for answers to your questions.