A crash between a semi truck and a train killed a Bemidji, Minnesota, truck driver. The accident happened in rural Todd County, west of St. Cloud. The St. Cloud newspaper reported that the semi truck driver was driving a flatbed tractor-trailer, and that he failed to stop at a train crossing.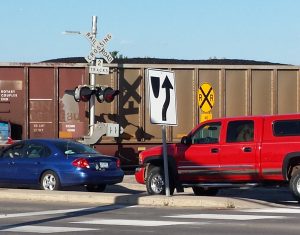 Several train passengers had minor injuries caused by the collision with the semi truck.  Two train passengers were taken to the local hospital, Lakewood Hospital, for treatment for injuries caused in the accident.
Todd County is located in central Minnesota.  It is home to Long Prairie.  Todd County is surrounded by Little Falls on the east, Alexandria on the west, and Wadena on the north.  The accident happened in early December, 2013.
The truck accident lawyers at the Stowman Law Firm, P.A., help surviving family members after fatal truck crashes.  We have also successfully represented victims and their families after car / train collisions and truck / train collisions.  If you have questions, call, email, or click around our web site.  You can even search our website.