An Experienced Minnesota Attorney Who Handles Head-on Crashes.
A head-on crash killed a Long Prairie, Minnesota, woman west of Little Falls, Minnesota. A pickup truck driven by a Little Falls man crossed the center line, causing the first driver to swerve to attempt to avoid the pickup truck. The two vehicles crashed head-on. The first driver, the woman from Little Falls, was killed in the crash. Morrison County, Minnesota, Sheriff's office and the Minnesota State Patrol responded to the scene.
A head-on collision between Deerwood and Crosby in Crow Wing County, Minnesota, killed one driver and injured another. Again, one driver crossed over the centerline and crashed head-on into the second, according to the Minnesota Highway Patrol.
The Crow Wing County Sheriff's office assisted at the crash scene.
These two accidents happened on the same day in November, 2014.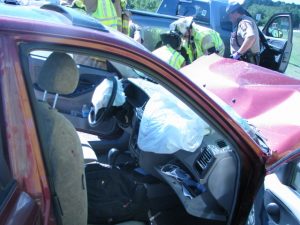 Talk to the best Minnesota accident lawyer that you can find. 
The Minnesota personal injury attorneys and wrongful death lawyers at the Stowman Law Firm, P.A., handle cases like these.  We help people after they are injured in car and truck accidents.  We help families after a loved one is killed in a crash.  Look around and see what real clients say about their Minnesota personal injury lawyers.
Our Detroit Lakes law firm is not far from Little Falls, Minnesota.  We are a short drive from Long Prairie, Minnesota.  We handle personal injury claims in central and northern Minnesota.  We only handle cases involving injury or death.
We represent you, not the insurance company.  If you have questions after a tragedy like this, contact our office.