8 THINGS TO DO AFTER A MINNESOTA OR NORTH DAKOTA CAR ACCIDENT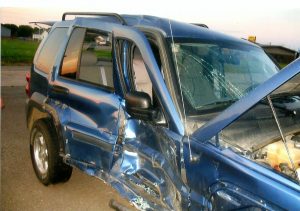 .
This is good advice.  This will help you even before you call an injury attorney. You can email this list to yourself so you don't have to take notes (click on the paper airplane icon at the bottom near "Share this article on").
1.  Call 911.  If anyone is hurt, dispatch will send an ambulance.  Broken bones need x-rays.  Whiplash needs to be checked by a doctor or chiropractor.
It is also important to get the police to the accident scene.  Police will take pictures, collect names of witnesses, names of drivers, names of passengers, and insurance information.  The police officer might write a ticket to the driver who caused the accident – the at-fault driver.  All of the information collected by the police officer will be on the police report.
2.  Exchange insurance information with the other driver.  Get the driver's name, address, and insurance information.  If there are passengers in the other driver's car, get their names and addresses, also.  Ask if this is the driver's car.  If the driver is not the owner, get the car or truck owner's name and address.  Try not to yell and scream, even if the car accident was the other driver's fault!  You need cooperation, and no one likes to get yelled at.
3.  Take pictures.  Take pictures showing the position of the cars or trucks immediately after the accident, before the tow truck moves the cars or trucks.
If the other driver blew a stop sign, your photograph might show the stop sign.  If you were hit hard, you might take a picture of the damage to your car.  If there is glass on the road from broken windows, broken headlights or broken taillights, that will help you explain how hard the cars hit.
4.  Get witness information.  Talk to witnesses who stop at the auto accident scene.  If you find people who actually saw the crash happen, absolutely get those witnesses' names and addresses.
The driver may have been distracted, and may not have seen exactly what happened.  The other driver may later blame you.  A statement from a reliable eyewitness is helpful and often viewed as trustworthy.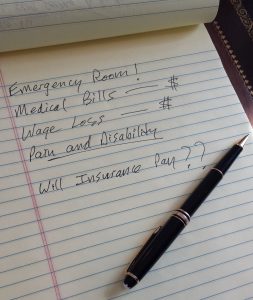 5.  Call your insurance company.  After you leave the accident scene, report the accident to your car or truck insurance company.  There will be a phone number on your insurance card.  If you do not have your truck or car insurance card, you will be able to find your insurance company contact information online.  Report the claim to your insurance company.
Do not talk to the insurance company for the other driver.  If they call you, politely tell the other insurance company that you do not want to talk to them.  Talking with the other company will not help you.
There is one exception.  If the other driver caused the accident, you must talk to the other driver's insurance company to get them to pay for your vehicle's damage.  Limit your conversation to the property damage.  Schedule an inspection of your vehicle.  Get your car or truck to a shop for a repair estimate.  DO NOT DISCUSS YOUR INJURIES.  Politely tell the insurance representative that you only want to talk about getting your car or truck fixed at this time.
6.  See a doctor.  After an auto accident, emotions will run high.  You may not start to hurt until later.  Take care of yourself.  Go see your doctor or chiropractor.  Go to the emergency room if you need to.  Minnesota and North Dakota are no-fault states.  That means that after a Minnesota car or truck accident or a North Dakota car or truck accident, your own insurance will pay your medical bills.
7.  Do not vent on Facebook, Twitter, Google+, or Snapchat.  A car accident is scary.  You will be mad at the other driver.  You might be hurt.  Do not vent your anger on social media.  Talk to your friends and family in person.  Do not make emotional posts on social media.  If you must bring a personal injury claim, insurance companies will ask if you posted anything about the crash on social media.  Weeks or months later, when you read the emotional words you used soon after the crash, you will probably be embarrassed.
8.  Contact someone who can answer your questions.  Call a personal injury attorney or a car accident lawyer to get your questions answered.  The accident attorneys at the Stowman Law Firm will help determine whether you need a lawyer, or when to hire a lawyer after your accident.  If you want, you can ask your car accident questions in the "I have questions" box on this page.
Our personal injury attorneys help with car accidents and truck accidents in Minnesota and North Dakota.  We help after auto accidents in and around the Detroit Lakes, Minnesota, Fargo, North Dakota, or Moorhead, Minnesota, areas.
The ambulance company might already have sent you a bill.  You might be missing work.  Who will pay to get your car or truck fixed?  You might wonder what the other driver's insurance will have to pay for.
Injured in an accident?  We have answers.