A pregnant woman and her unborn child died after they were hit by a semi-truck near Sartell.
The Stearns County Sheriff's office says the semi blew through a stop sign at the intersection of County Road 4 and County Road 133 in LeSauk Township and hit an SUV driven by the 30-year-old woman from Holdingford around 7:45 on Monday morning.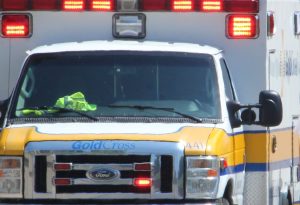 Deputies say the woman stopped on County Road 4 and was going through the intersection towards St. Cloud when she was hit by the semi going towards Sartell on County Road 133.
The woman was five months pregnant. Both her and her child were taken to St. Cloud Hospital where they died. Her name wasn't immediately released.
Deputies say the driver of the semi, 46-year-old Corey William Planck, of Star City, Indiana, told police that he didn't see the SUV. He wasn't injured.
The intersection is a four-way stop. The accident is under investigation.
Source: KNSI News, Jake Judd, reporter.  December 17, 2018.