A three-car accident east of Detroit Lakes, Minnesota, appears to be the result of a pickup truck's attempt to pass a snowplow.  The crash seriously injured one passenger, and sent the three drivers to Essentia Health St. Mary's Hospital in Detroit Lakes.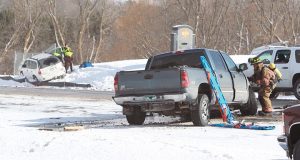 A westbound pickup truck tried to pass a snowplow on Highway 34 east of Detroit Lakes, and drove head-on into an oncoming SUV.  A third vehicle, also an eastbound SUV, then crashed into the accident.
This car – truck crash happened in early March, 2015.
Many people call our personal injury law office after they were in an accident and explain that they are not the type to sue people.  But, they have never been in an accident, and they don't know what to do?  They have questions about their accident.
If you have questions about a car accident, ask us! 
You need answers to your questions!  Ask us in the "I Have Questions" box to the right, or on the Contact page.  You can also check our list of Frequently Asked Questions.
Most people are never in a truck accident or car accident.  Most people are never hurt in an accident.  That makes a car crash all the more confusing when it happens.
Each of the people in the three vehicles in this three-car crash near Detroit Lakes have different circumstances.  Each person will have different questions.  All of them should get answers to their questions.  Your phone call or meeting at our law office  is free, no charge.